As one of the founding companies in the metal hose industry, UMH
has been the #1 choice for strip wound inter-locked & squarelocked
tubing and custom corrugated hose assemblies since 1942.
UMH is growing!

As a result we proudly introduceour second in a series of new product offerings!

Pulflex Small Diameter Flex Tube with Pull Through Assist Wire:
This new product provides an internal SS wire that runs the length of the tubing to allow wire/cable attachment for easy insert and pull-through
capability. Pulflex is available in cuttube lengths up to 150' long, in sizes
from 5/32"ID up to 1/2"ID. The new design is intended to save time and
reduce manufacturing costs by speeding up your product's time to market!

Typical applications include OEM & measurement/ instrumentation control wire, wire harness assembly,cable/wire underground protection from pressure and environmental concerns and fiber optics.

Please contact our factory or local representative for additional information:

Don't wait—take the time to
give our experienced sales
group a call to find out more
about our UMH hose
products today!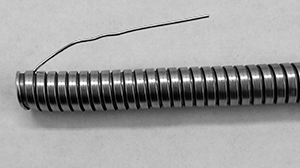 ---
THE UMH ADVANTAGE—DID YOU KNOW?
---
Featured Product:
Pulflex SS Tubing with Assist Pull Through Wire
The Pulflex product line is available in (2) different strip profile
configurations making it useful for virtually any application using small
diameter cables or wire!